Adamus is a fictional character from the Television fantasy series, Encantadia produced by GMA Network.
Profile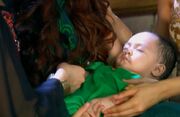 Adamus is the son of Alena and Memfes. He was conceived when Memfes who was at the point of death, told Alena he only wanted to marry her and have an offspring that has the blood of a brave and wise Diwata and of an Adamyan as him because he wished to see Adamya rise back to success. Alena tells Memfes his dream will be granted and touches palms which later on light up. Alena puts their hands near her heart and wishes it be for the greater good of Adamya and start having a collective dream. Alena gave birth to him days after her coronation as queen of Lireo and named him Adamus in commemoration of his father. In the Epilogue, he is seen as a kid running at the shore with Cassandra, Danaya's daughter and Pirena's daughter.
Trivia
He is the oldest among the new generation of Sang'gres.
He and his brother, Kahlil, are the only known male Sang'gres.

Adamus is also the only known Encantado with Diwata-Adamyan lineage.

Alena mentioned in the Director's cut of the finale that he named her son Adamus so that he won't forget where his father Memfes came from, the land of Adamya.
Story Gallery