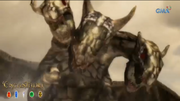 The Servant of the Charm Sword is a dragon that serves the wielder of the sword.
Hagorn met the servant after asking the sword to unleash its powers after being granted to him by Ether. He was again summoned by Hagorn with the use of the sword to supposedly defeat Amihan, Pirena, Danaya, and Kahlil during Hathoria's defeat.
Appearance
A three-headed light brown (and gray) dragon with red eyes.
Attitude
Its attitude depends on what its master commands him to do.
History
Not much is known about the dragon. It is unsure if he was created before the sword was created or was created the same time as the sword.
Gallery
Video