The Stream of Truth is a stream which has a similar ability to the staff of Imaw or in the 2016 series, the Tungkod ng Balintataw. It can show anything that has happened in the life of an Encantado/Encantada.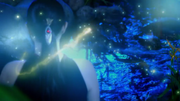 2016
The stream is located in a far away land in Encantadia.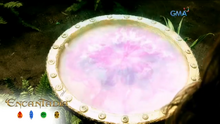 Cassiopea went here when Emre cursed her to gather some water for her Mahiwagang Kawa that she uses for making future forecasts/divination.
Amarro and LilaSari also went here to restore the memories Ether had erased (Amarro kept on saying it was Avria who erased LilaSari's memories) from LilaSari.
According to Emre, the Bathalumang Haliya oftentimes goes down from the moon which she considers her home of meditation and peace to the Stream of Truth to bathe. This is her favorite Stream in Encantadia—she considers it her Home in Encantadia.
2005
In the 2005 series, it was visited often by Encantados/Encantadas (Alena Mine-a, Raquim, Odessa) to know the truth about a someone or themselves or inquire about a fact whether it about the past or in the future. It is where Mine-a and Raquim met shortly after Mine-a had asked the stream who is her "soulmate".
In Etheria an enchantment is being said "Avoya, Avoya." before they make their inquiry.

In the 2016 series, Cassiopea used this enchantment for divination via her cauldron.

In Encantadia: Pag-ibig Hanggang Wakas it was said that the spring was dried up presumably the work of the Etherians so that nothing will give the answers the Diwatas are seeking.
Ad blocker interference detected!
Wikia is a free-to-use site that makes money from advertising. We have a modified experience for viewers using ad blockers

Wikia is not accessible if you've made further modifications. Remove the custom ad blocker rule(s) and the page will load as expected.