2005 (Book 1)
Prior to the Prologue
Before the palace of Lireo was established, Cassiopea had a lair in the forest. When the palace was finished, Cassiopea abandoned that lair but left an important item there, the Punyal ng Sandugo but not without a trial that must be passed in order to obtain it.
After Prologue
The lair can be seen in a cave and it is where her
Kawa
can be found. It is frequently visited by Sang'gre Lira (Mira) to ask Cassiopea questions in exchange for bags of gold.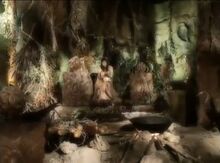 2006 (Book 3)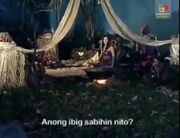 In Episode 2 of Pag-Ibig Hanggang Wakas, it can be seen that the lair is now situated in a forest and Cassiopea has a dream of Ether collecting the souls of the Herans and placing it in a Crystal ball. Cassiopea then wakes up and the line of her palms slowly erase. A masked person later appears then fights with Cassiopea and stabs her, the masked person is revealed to be Arkrey.
2016 (Book 1)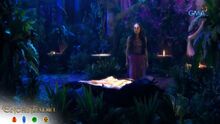 Cassiopea's Lair is located in a currently unnamed forest far from the castle of Lireo. This is were she stayed after Emre cursed her. This place is also where the water from the Batis ng Katotohanan can be found.
Story
When Cassiopea cleaved the Mother Gem, she was cursed with banishment and immortality by Emre, forcing her to leave her Island and situate a remote place in the forest.
Cassiopea made a powerful cauldron (makapangyarihang kawa in Tagalog) and filled it with water from the Batis ng Katotohanan, with that, she can monitor the happenings in Encantadia. Encantados go to her with gold and ask her about their future or to find someone or something.
When Diwani Lira ran away from her Ashti Danaya becaue Danaya said that she won't be queen due to her attitude, Cassiopea asked her if she wants to know her fortune, she followed Cassiopea to her Lair. There, Cassiopea has revealed to her that she will not be Queen.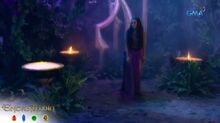 Gallery
Ad blocker interference detected!
Wikia is a free-to-use site that makes money from advertising. We have a modified experience for viewers using ad blockers

Wikia is not accessible if you've made further modifications. Remove the custom ad blocker rule(s) and the page will load as expected.