Dagtum is a fictional character from Encantadia, a Filipino telefantasya produced by GMA Network. He is a member of Asval's faction.
Profile
Trivia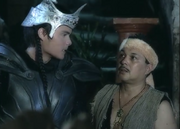 His counterpart in the Encantadia (2005-2006 Series) is Bandok. The only difference is, Bandok had lived up to the end of the series and that Bandok played a vital role in the series. He was the one who told Ybrahim the true story about the Kabilan and telling him about Etheria.
Edwin Reyes was part of the cast of Encantadia (2005-2006 Series). Playing a Barbaro who aided in the war in Book 1.
Ad blocker interference detected!
Wikia is a free-to-use site that makes money from advertising. We have a modified experience for viewers using ad blockers

Wikia is not accessible if you've made further modifications. Remove the custom ad blocker rule(s) and the page will load as expected.