Dakila is one of the supporting characters and protagonists of the Mulawin saga. He also appeared in the First Book of Encantadia (2005) and was mentioned in Encantadia (2016). He is played by Filipino actor, Mr. Eddie Gutierrez.
Connection to Encantadia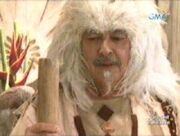 Content TBA
Encantadia Requel
Dakila was mentioned to be the mentor of the teen Pagaspas when he was at Encantadia in Pugad Lawin. He took away Pagaspas' ugat-pak to train him as a lieutenant of Avila. Dakila sent him to respond to Amihan's call as part of his training. Dakila died during the Hathor-Mulawin battle.
The storyline doesn't quite go along as in Mulawin: The Movie, Dakila has already died in the Mortal Realm when Pagaspas was still young. It doesn't match how they could have been at Encantadia and how Dakila could have trained the adolescent Pagaspas.
Ad blocker interference detected!
Wikia is a free-to-use site that makes money from advertising. We have a modified experience for viewers using ad blockers

Wikia is not accessible if you've made further modifications. Remove the custom ad blocker rule(s) and the page will load as expected.