Danaya-Sari is the 109th episode of Encantadia produced by GMA Network. It continues from Chapter 34. The official hashtag is #EncantadiaDanayaSari.
Major Events
When Danaya and LilaSari combine their powers, they combine into one person (which looks like Danaya from the 2005 series). The fused entity identifies herself as DanayaSari.
LilaSari refuses to live in Lireo and be their alliance as LilaSari's mindset of life has been changed due to Deshna. She wants to live a peaceful life with Hitano and Deshna.
LilaSari gives Amihan the Brilyante ng Tubig. Hagorn plans to find LilaSari to obtain the Brilyante. Alena receives the Brilyante from Amihan after talking for a while.
Pirena, Asval, and the former Carcero prisoners arrive at The Palace of Sapiro. They fought with Wantuk, Ybarro and the soliders for a while, until Wahid and some of the Barbaros arrive, with the help of Muyak spreading the word that Sapiro has been invaded.
Ether meets Alena. Ether tries to strike a deal with her by telling Alena to worship her as a Bathaluman, Alena gets more power other than the Brilyante ng Tubig.
Videos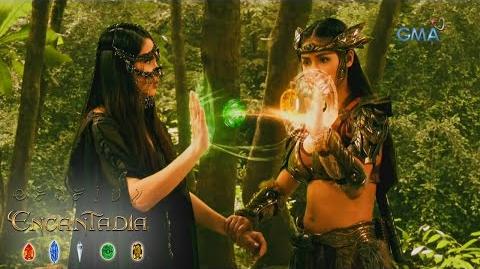 Ad blocker interference detected!
Wikia is a free-to-use site that makes money from advertising. We have a modified experience for viewers using ad blockers

Wikia is not accessible if you've made further modifications. Remove the custom ad blocker rule(s) and the page will load as expected.