2005
The Hadezars are forces of evil that ceased to exist until when Hagorn sought the help of the former king of Hathoria, Bartimus. Along with the Olarkans, they are also the allies Bartimus had provided for Hagorn during the final battle between the Hathoria and the forces of Lireo, Sapiro and Adamya. Hagorn went to the land of the departed in the edge of Hathoria to fetch them. They are the most resilient warriors in Encantadia as Hagorn described because they don't die easily. Only the Kabilan and the deceased warriors from Devas could defeat them.
2016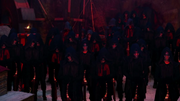 The Hadezars are a new type of Hagorn's soldiers that ally with him, they used to be soldiers that served for the Hathorian Kings (during the first king to Hagorn's reign).
Because they no longer have bodies, they cannot be killed thus making them invincible to any attack even the powers of the gems in Encantadia. They can be knocked down but they will immediately rise after a few moments. Technically they are invincible if faced with living people.
The known Hadezars are listed hereunder, in order of their ages, from eldest to youngest:
Weakness
Hadezars cannot be hurt nor killed by living beings but a Hadezar can hurt or kill another Hadezar so basically, their weakness is their own kind. Also, the Ivtres from Devas because like them they no longer live. The other weakness of Hadezars is the sword of Mira known as Kamao ni Emre, however, Ether made the Hadezars immune to that God weapon.
Trivia
Ad blocker interference detected!
Wikia is a free-to-use site that makes money from advertising. We have a modified experience for viewers using ad blockers

Wikia is not accessible if you've made further modifications. Remove the custom ad blocker rule(s) and the page will load as expected.