Hera Volo
is the one of the four tribes of Etheria. The members of this tribe are highly skilled because they can enhance the speed of their movements. The strongest warrior of Etheria Hera
Juvila
, is from this tribe.
Sites in Hera Volo
This is where Juvila often trains.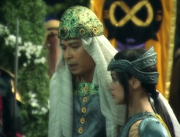 Leadership
The leader of this tribe is Cilatus.
Military
The members of this tribe are the best when it comes to combat as this is their field of expertise. They focus more on offense than defense as they don't use armors. Like the other tribes of Etheria, the soldiers from this tribe have their own uniform but they don't use armors because they think it just slows down/restricts their movements. They use swords and spears as their weapons. 
2016
The tribe where the military is at its finest. Also, people from this tribe can change the course of time.
Pirena's Etherian Armor is considered the standard armor of Volo.
Ad blocker interference detected!
Wikia is a free-to-use site that makes money from advertising. We have a modified experience for viewers using ad blockers

Wikia is not accessible if you've made further modifications. Remove the custom ad blocker rule(s) and the page will load as expected.