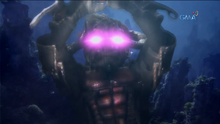 The Kubur is a creature created by Avria using the combined powers of the Brilyante ng Hangin, the Brilyante ng Lupa and the Brilyante ng Diwa. Kubur is an enchant word that when translated to Tagalog, means Halimaw or Monster in English.
Appearance
The Kubur is gigantic in size. It looks like a minotaur.
Powers
The Kubur had no powers to begin with it derives its powers through the powers being shot, thrown or directed to it.
Gallery
Videos
Ad blocker interference detected!
Wikia is a free-to-use site that makes money from advertising. We have a modified experience for viewers using ad blockers

Wikia is not accessible if you've made further modifications. Remove the custom ad blocker rule(s) and the page will load as expected.