Lawiswis is one of the major characters and protagonists produced by GMA Network for the Mulawin saga. She appears in the Mulawin-Encantadia crossover movie, Mulawin: The Movie and in every other installment of the Mulawin franchise. The Lawiswis who appeared in the movie is played by then child actress, Sam Bumatay.
Profile
Lawiswis is a pure blooded Mulawin who once took on the challenge of Langay, one of the members of the Tres Aves along with Pagaspas. They defeated her in a race earning a chance for the group to join their cause. She and Pagaspas had always been together ever since they were children which formed the bond between the two until they eventually fell in love with each other.
Appearance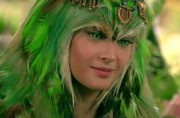 Over the years, Lawiswis had grown into a beautiful Mulawin. So beautiful, that Siklab was easily enamoured with her. Being a pure blooded Mulawin, she has colorful wings and bright green eyes. Her feathers are colored green, brown and gold. She wears a brown sleevless fur top and a ragged skirt.
Lawiswis and the others were taken by Ybarro to Encantadia (specifically Lireo) in order to heal Alwina. She is present during Aguiluz and Alwina's wedding (which was also held in Lireo) wherein she was a flower bearer along with Pagaspas. Later on she ans and Pagaspas played along with Banak, Nakba, and Awoo in the garden of Lireo. While the war was going on, Lawiswis and Pagaspas were shown to have remained at Lireo and spent time with Reyna Amihan in her room.
Lawiswis along with Almiro, Anya and Pagaspas rushed to see Aramis who recently returned. Upon mentioning the Minukawa, Sang'gre Pirena and Sang'gre Lira arrived with Malik. Lawiswis met Lira for the very first time. Lira was taking a selfie when she noticed Lawiswis and Pagaspas were curiously staring at her. Lira introduces to them how to be in a groupfie and shows them their picture together. Lawiswis was surprised to know there was another Mulawin Pagaspas from Tandang Lumbas. After the arrival of Sang'gre Pirena and Anya, Pagaspas excused himself and left with Lawiswis.
Trivia
It's pretty disturbing to see that not neither Pagaspas nor Lawiswis who both took the challenge of Langay, one of the members of the Tres Aves in Mulawin: The Movie even bothered to correct what Anya said about them being powerless or only defeated the Buwarka.