The general of Hathoria is an unnamed Hathor soldier who is currently the Mashna of the Hathoria Army. Being the Mashna, he is commonly seen whenever there is an important event or where Pirena usually is.
Story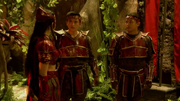 Debut Appearance
Rama Ybrahim called for an urgent meeting regarding the move of the Mashnas of Etheria. Being the Mashna of Hathoria he remained at the Punong Bulwagan when Mashna Mayca dismissed the soldiers. He again appeared in Hathoria with another Hathor soldier wherein they were calling for someone named Agdir. Hara Pirena then appeared asking them who were they looking for. He replied that they were looking for Agdir and their companions who have been missing for quite a long time now. Hara Pirena encouraged them to keep on searching. They pay respect to her and continued searching.
Meeting about the New Keepers
He was present during the meeting.
Meeting with Mashna Mayca
He is seen during the meeting with Mashna Mayca. Exactly when the meeting was adjourned, Hara Pirena appeared with Sang'gre Lira and Sang'gre Mira.
Celebration in Lireo
He was present during the celebration.
Battle against the Kubur
He appeared during the battle against the Kubur wherein he was one of the soldiers defending the castle of Lireo.
Attacking Etheria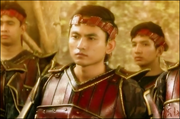 He was formally introduced as the Mashna of Hathoria after being called by Hara Pirena to relay her message to Ybrahim.
Meeting of the leaders
He appeared alongside Abog in the meeting of the leaders wherein they were planning their next move against Etheria.
Battle between the Sang'gres and Herans
He was present during the battle and led the soldiers in retreating after the Sang'gres had left them.
Battle in Sapiro
He came along with the Army of Hathoria in Sapiro to aid in the upcoming battle against Hagorn's forces. He had his second speaking role in this appearance of his.
Ad blocker interference detected!
Wikia is a free-to-use site that makes money from advertising. We have a modified experience for viewers using ad blockers

Wikia is not accessible if you've made further modifications. Remove the custom ad blocker rule(s) and the page will load as expected.