Mistake is the 70th episode of Encantadia produced by GMA Network. It continues from Chapter 31. The official hashtag for this episode is #EncantadiaPagkakamali.
Plot
Major Events
Pirena finds out that Lira is gone.
Anthony and Mira meet again, at Anthony's house.
Lira meets Amihan. But she doesn't believe her because she thinks she is Pirena. So, she stabs her with the avatar.
When Aquil said he would pray for Alira Naswen, Danaya got jealous.
Hagorn saved Pirena because she has the Brilyante ng Tubig and they have a lot of enemies.
Hagorn said that he would be the keeper of the Brilyante ng Apoy and Pirena can never take it back.
Danaya, Muyak and Ybarro found out that Lira stabbed her.
Lira managed to escape from Lireo.
Imaw, using his Tungkod (Staff / Magic Wand), shows Amihan, Danaya and Muyak the reason why Lira has stabbed her.
Hagorn now knows that Ybarro is Ybrahim and that he is Kalasag. He feels that he should be slain.
Videos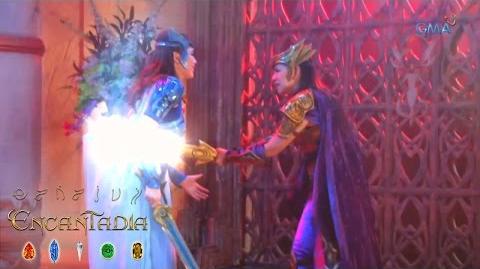 Ad blocker interference detected!
Wikia is a free-to-use site that makes money from advertising. We have a modified experience for viewers using ad blockers

Wikia is not accessible if you've made further modifications. Remove the custom ad blocker rule(s) and the page will load as expected.