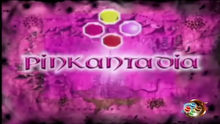 Pinkantadia is a mini series spoof created by Bubble Gang, GMA Network's highly-rated gag show.
The names of the cast were spoofed as: Ynang Mother (Ynang Reyna; a reference to the Tagalog for mother, "ina"), Amoyhan (Amihan; "amoy" being "smell"), Dinaya (Danaya; literally "cheated"), Alyena (Alena; "Alyena" is a play with the word Balyena, meaning Whale) and Irena (Pirena). Other characters include Jalathors (Hathors), Limaw (Imaw), Niño Muyak (Muyak), Kabarro (Ybarro), Bruha (Gurna), Muta (Cassiopea/Mata), and Hadagorn (Hagorn), Raquim-raquim (Raquim). They even spoofed the name of the kingdom of Hathoria to Halathoria (Hala meaning trouble or something leading to or about to lead to trouble).
During Bubble Gang's 10th anniversary, the actual characters of Encantadia appeared and portrayed a comical face-off with the Pinkantadia characters.
Ad blocker interference detected!
Wikia is a free-to-use site that makes money from advertising. We have a modified experience for viewers using ad blockers

Wikia is not accessible if you've made further modifications. Remove the custom ad blocker rule(s) and the page will load as expected.