Welcome is the 117th episode of Encantadia produced by GMA Network. It continues from Chapter 34. The official hashtag is #EncantadiaSalubong.
Plot
Major Events
Lira meets Emre face-to-face, for the first time. She meets Kahlil after a long time. Emre gives her a silver bracelet, that could fulfill her wish. She takes a selfie with Kahlil, to prove that she has met Kahlil in Devas when she shows the picture to her Ashtis.
Rexar dies.
Pirena and Ybarro fight for Sapiro. Pirena refuses to leave Sapiro after negotiating with Ybarro.
Trivia
Alena regains consciousness. Alena accompanies Amihan to fight for Sapiro, against Pirena.
Pao Pao is currently recovering, as Danaya has healed him with the Brilyante ng Lupa.
The Kalasag is stronger than Pirena's Melting ability.
Speculations
This episode may refer to Lira arriving at Devas.
Videos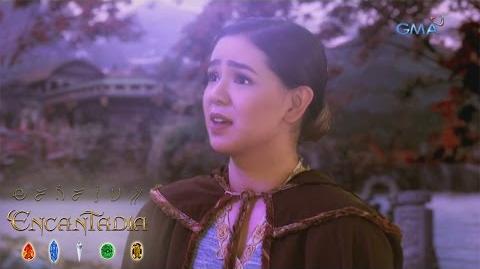 Ad blocker interference detected!
Wikia is a free-to-use site that makes money from advertising. We have a modified experience for viewers using ad blockers

Wikia is not accessible if you've made further modifications. Remove the custom ad blocker rule(s) and the page will load as expected.