Suspicion is the 107th episode of Encantadia produced by GMA Network. It continues from Chapter 34. The official hashtag is #EncantadiaSuspetsa.
Major Events
Hitano and Asval fight for a while.
Lira tries to help Pirena on getting well with her daughter. Earlier, Lira tries to tell Mira about respecting her mother.
When Alena saw Deshna, she asked LilaSari to think about giving the Brilyante ng Tubig to her or else she would tell Hagorn about it, as Hagorn does not know about Deshna yet.
At first, LilaSari plans to not to give Alena the Brilyante ng Tubig. After much persuation from Hitano, she agrees to give it to Alena.
Asval asks Myca on whether she wants to join him in taking over a kingdom. Myca says that she will think about it first. When she overheard LilaSari giving the Brilyante ng Tubig to Alena, she agrees to go with Asval. Her younger sister accompanies her.
Hagorn, a small group of Hathors, Agane and the Gabay Diwa ng Ikalimang Brilyante meet Amihan, Mira, Muros and a small group of Lirean soliders after a long time.
Trivia
Videos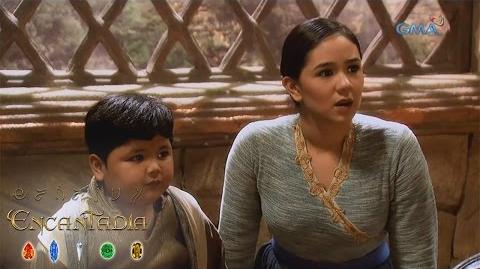 Ad blocker interference detected!
Wikia is a free-to-use site that makes money from advertising. We have a modified experience for viewers using ad blockers

Wikia is not accessible if you've made further modifications. Remove the custom ad blocker rule(s) and the page will load as expected.