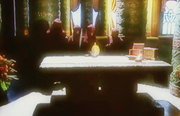 The Ginintuang Orasan has four guardians. They aside from Queen Avria have access to the secret chamber where the hourglass is being kept. They do not know each other's identity only Avria knows who they are. Proof is during the Original History of Etheria wherein Odessa was fighting her fellow guardian Arkrey. Each of the guardians have their own powers. They take shifts in guarding the hourglass everyday aside from that, it is also their duty to wait until the hourglass is finished to its last drop so that they could restart it. They patiently give a portion of their time in guarding the hourglass because they know very well that every Etherian's life depends on the continuous flow of the hourglass.
Appearance
They wear red cloaks to hide their identity and they also hold a medallion which they use to restart the hourglass.
Known Guardians
Avria

It is unknown who is the fourth guardian if its Andora or Juvila. Supposedly, Avria is thought not to be one of the four but Francine Prieto mentioned in her Twitter account that she is one of the four guardians so the remaining guardian is down between Andora and Juvila. Fans can assume the other one who is not a guardian came with them on the final battle to aid them against the Sang'gres and the reason why Bathalumang Ether revived her in Book 3 because she knows she can be of great help to them.
Ad blocker interference detected!
Wikia is a free-to-use site that makes money from advertising. We have a modified experience for viewers using ad blockers

Wikia is not accessible if you've made further modifications. Remove the custom ad blocker rule(s) and the page will load as expected.