The Encantadian Fish is an aquatic creature from the Filipino fantasy-themed television saga Encantadia produced by GMA Network.
Biology
The fish has a mix of fish, amphibious, and crustacean traits. They need a large amount of water to survive. It has a fish-like head, and an amphibous/crustacean-like lower body. The size of this creature is roughly 18 feet high.
Character Story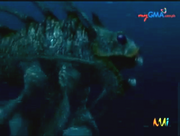 This creature was made/summoned using the Brilyante ng Tubig by Pirena, to prevent Danaya from getting her brilyante. It was sent to the Mortal world, the creature rushed through the ocean finally finding Danaya, and after attacking the Sanggre, the creature was then defeated after multiple attacks from Danaya and her dolphin friend.
Trivia
It is unknown if the Encantadian Fish were a species or a creature specially created from the Brilyante ng Tubig.