True Colours is the 99th episode of Encantadia produced by GMA Network. It continues from Chapter 33. The official hashtag is #EncantadiaTunayNaKulay.
Major Events
Alena tells Pirena about Amihan's plans to invade Lireo. Amihan calls Alena a traitor.
Even though Lira has returned to her original form, her parents still do not recognise her.
Before Pirena could stab Hagorn while he was sleeping, Hagorn said that he was aware that Pirena was around and he showed the Brilyante ng Apoy to her. He shooted out a fire blast to Pirena but she disappeared. They fought for a while, leaving Pirena injured on her right arm.
Trivia
The hashtags, #TeamPanea and #TeamPrutas became popular on Twitter, as Aquil offered Danaya some bread, while Muros offered Danaya some fruits.
It is pretty obvious by Wantuk's, Aquil's and Muros' gestures that they are trying to impress Danaya.
Danaya knows that Wantuk has a crush on her as he wished that he could be as tall as Muros and strong as Aquil if he ate the fruit from the Tree of Life.
Speculations
Wahid may have romantic feelings for Lira (even though he doesn't remember her) as he said her name sounded beautiful to him
Videos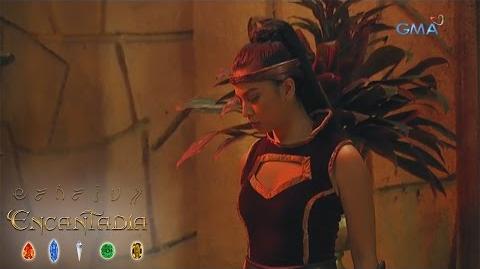 Ad blocker interference detected!
Wikia is a free-to-use site that makes money from advertising. We have a modified experience for viewers using ad blockers

Wikia is not accessible if you've made further modifications. Remove the custom ad blocker rule(s) and the page will load as expected.